How Does it Work?
Get freight tracking with a simple download. Transform your drivers' phones into a highly accurate, hands-free freight tracking system. Constantly updated locations, status and ETAs, and endlessly scalable at no extra cost.
Freight Tracking. Revolutionized.
Shippers, 3PLs, brokers and trucking companies need a reliable freight tracking system that allows them to quickly understand the status of each shipment at any moment.

Badger lets you.

Drivers simply download the free Badger App onto their phones, while managers complete a fast, two-screen sign-up for unlimited access to Badger's revolutionary freight tracking system. It's easy. It's accurate. It's complete. Badger's app-based solution allows your organization to upgrade its existing freight tracking system at a fraction of the cost. Here's how Badger works harder for you and your team.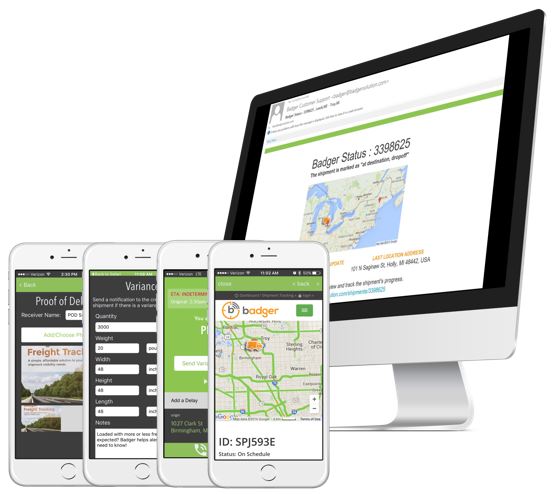 It All Begins at Sign-up
Managers simply sign up for Badger by creating a new account and entering a credit card. You will receive login information and a link to your company's new Badger custom freight tracking page.
Easy as 1, 2, 3, (4)
The Open Shipment Dashboard displays each shipment—its origin and destination, if it's completed, on schedule or delayed, and includes automatically updated delivery ETAs. Filter the freight tracking display by customer, carrier, origin and destination. You can also see the big picture of your freight deliveries with a map view, and always have access to full contact information and shipment properties.
Enter customer name, carrier name, driver cell number (if you have it) and all shipping IDs that are relevant, such as bill of lading (BOL), Carrier Pro (aka invoice #), P.O. (purchase order), and/or Load ID. Add relevant details such as width, height and length (48 x 48 x 48, for example), weight and number of pieces.
Enter origin company name, contact name, address (synced to Google Maps to alert for costly typos) and phone; pickup date, time and time zone.
Enter destination company, contact name, address and phone; dropoff date and time and the time zone of destination. Add the email address of anyone you would like to notify about this new shipment and select the interval at which you would like Badger to automatically send location and status updates. E-Mail updates can be sent every 15 min, 30 min, 1 hour, 2 hours and 4 hours. You all also receive an arrival notice when the driver is 30 minutes away from the destination.
The shipment is added to your dashboard and assigned an original Badger ID number. If you entered a driver's cell phone number, they will automatically receive a text with a link to start tracking their shipment in the Badger App. If they do not have the Badger App, the link will take them directly the Badger App in their app store for a quick free download. Don't have the driver's number at the time of shipment creation? No problem you can update that later simply by clicking on the shipment on your Badger Dashboard.
No Platform Restrictions
You can access your shipment tracking information via desktop or phone – the tracking site is mobile-optimized. Anyone who needs access to your shipment status can be added with your permission. It's easy and free to add users/viewers across your supply chain or customer base.
One-Tap Download
Drivers download the free truck tracking app to their iPhones or Android phones. It doesn't matter if you have three drivers or 300. Each download is free and the number of drivers in your fleet never affects your monthly rate.

Hands-off, Low Impact
To accept a delivery job, drivers simply swipe "en route" once they receive the shortcode. With a simple tap on the phone, drivers then keep the freight tracking system updated by marking themselves as being en route, at pickup, in transit and at dropoff. Once on the road, drivers are hands-off while Badger runs in the background, providing an updated map location and current ETA to the truck tracking interface.The Badger App is equally as user-friendly for management, 3PLs and receivers. From the landing screen, users can easily enter their shipment ID to check shipment status. They can also login to the dashboard to get a closer look at shipment details and make updates as needed.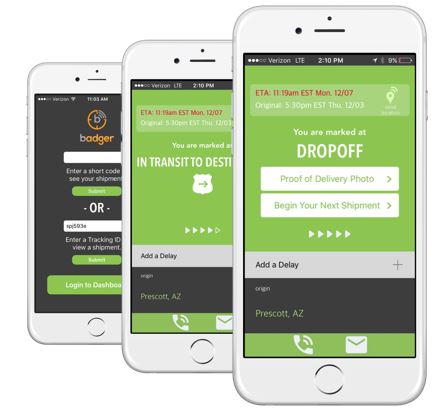 Custom Alert Settings
Users can choose how often they would like to receive updates on their shipment when en route – every 15 minutes, 30 minutes, 1 hour, 2 hours and 4 hours. All parties are sent an email notification once the shipment is 30 minutes from the destination. No more waiting and wondering when your shipment will arrive.
Dropoff and Done
Drivers using personal phones will find that Badger does not affect data plan costs, as it pings a short position update four times an hour and then once every five minutes when the driver is within 150 miles of the destination. Upon delivery, drivers can take up to six proof-of-delivery photos that are automatically uploaded to the Badger interface for users to view, download and print. Once complete, drivers simply update the Badger App to turn off the tracking function. Badger does not track drivers in-between shipments.
It's as Easy as That
Badger is simply easier to use, more accurate and less expensive than what you're using now for freight and fleet tracking. And with unlimited scalability for the same low monthly fee – we are a revolutionary solution. Never pay by the delivery again.
Upgrade Your Freight Tracking, Today